I'm not proud… or tired.
I went out for donuts today, and, even after making my return a little bit twistier than usual (I swung down into the Sandy River gorge on Stark Street, which turned out not to add more than about 6km to the loop,) I arrived home with only 88 miles showing on the odimeter. Now, the last three times I arrived home with <90 miles on my odometer it was in the ballpark of 8pm, which is far too late to turn around and bolt out into the dusk to round my trip up to the nearest multiple of 100.
But I didn't walk out the door at 2:30pm today. No, this time I headed out before noon, so, even taking into considering my ~1hr of parking myself at the controls (Joe's Donuts & Kelley Point Park) that meant that me and my donuts rolled into the house at ~6:45pm. And the best was happy to let me head on out and try to round up to the nearest 100.
So I did. And not only that, but I stopped at the Big Big Store and did some shopping in the process (at MP 100.5, too – I rolled over 100 miles while looping through scenic Garthwick after I'd made a quick 12 mile dash to Gladstone and back.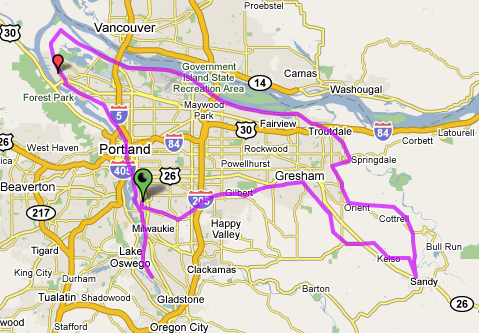 This is a familiar route; I took the Springwater Trail all the way from Sellwood to Boring (including the non-improved parts; the Vittoria Randonneur tires (which claim to be 28mm; I measured them and they're 25.5mm on the front, 26.5mm on the back) I've got on the Xtracycle are beginning to wear themselves square, but they're still good for riding on the packed gravel of the trail east of Rugg Road) and encountered only one surprise when I came upon a deer wandering confusedly on the trail:
East of Boring, I varied my route a little bit by taking 213 to Orient, Orient to Kelso, and Kelso to Bluff Road. This turned out to be a pretty fast way to get to Sandy – the door-to-door time from home to Joe's Donuts was 1h52 minutes, which was at least 8 minutes faster than I've ever gone uphill before.
The return trip was a little bit more complicated; after loading the bicycle with donuts (and me with a smoothie) I did my now traditional Bluff Road to Hudson, Hudson to Lusted, Lusted to Dodge Park Blvd (aka the Mount Hood Railway ROW,) and Dodge Park Blvd to (briefly) Orient and the Troutdale-Boring highway. But then I diverted east along Stark St and dropped down to the Sandy River gorge, where I followed the Historic™ Columbia River Highway into downtown Troutdale, where I swerved north to Marine Drive and headed back west.
Marine Drive was a bit of a pain, because there was a fairly annoying southerly wind that persisted in blowing in my face all the way up to Kelley Point Park. It was enough of a pain so I had to make an unscheduled stop at Chinook Landing Marine Park, where I just stopped for 5 minutes to drink some water, catch my breath, and watch boats being launched and retrieved on an industrial scale before heading back out for another 15 miles of headwinds.
The headwinds were persistant enough that I had to stop at a convenience mart to pick up a couple of bottles of sodapop to give myself enough oomph to reach Kelley Point, but I did eventually reach it, ate a donut for dinner, and turned my bicycle for the final (tailwind-assisted) run into town.
Marine Drive became Lombard, and in St Johns I dodged west to Willamette, which I followed down to Greeley, and Greeley eventually dumped me onto Interstate, which was almost trolleyless down to the Rose Quarter, where things got exciting for a while:
First I saw (and photographed) one of the Gomaco cars heading west out of the Rose Quarter Transit center, and then I spotted another Gomaco car heading east across the Steel Bridge, and then when I dropped down the ramp onto the eastside esplanade, I heard a train whistle blowing across the river and saw the 6:15 Cascades heading across the Steel Bridge:
From that point, it was back to the routine; the rest of the Springwater Trail, Umatilla & 13th to home, the realization I hadn't gone far enough (the odometer had actually let me know about this several dozen miles earlier; Portland is a very small city, and I'm getting very familiar with being able to ride across it and not consume many miles) and the resulting shameless grovelling for another dozen miles to round myself up to the nearest multiple of 100.
101.5 miles, 7h09 minutes, 1400 meters climbed, and when I got home after this micro death march (a proper deathmarch would be 4-8 times this, but I'm beginning to suspect that I don't have the capacity to actually survive one of those) my weight was down to about 175 pounds.